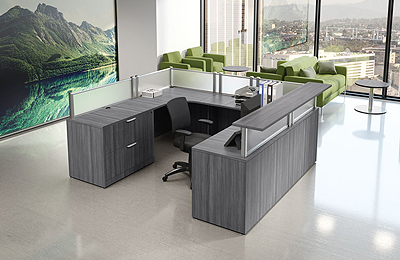 The first impression many people have of your business is the reception area. A functional and pleasing reception area can define and even enhance your company's image. Make the right impact with an outstanding lobby area designed by MBF. We can help you furnish your reception and lobby area with the right furniture to meet your space, design, finish selections and budget. From reception area desks to guest and lounge seating, we offer the quality office furniture you seek and deliver it all at the affordable price you expect.
Reception / Lobby Area Catalogs
RECEPTION DESKS
LOBBY SEATING
Intelligent Office Furniture excels at making reception area desks. They make all the standard sizes and options that most manufacturers offer. But their one size does not meet all mentality frees them from "the box" and allows them to manufacturer to your specific needs and sizes. Just as with their casegood and desk furniture, they exhibit the unheard of ability to make custom sizes at no upcharge or extended lead times.
Lesro Industries has been a leading manufacturer of guest and lounge seating for over 35 years. They offer an expansive portfolio of products and a spectacular selection of fabrics. Many of which that are in their quick ship program which can deliver a well made, beautifully designed, comfortable and affordable chair in the shortest of lead times.

Copyright © 2022 Maine Business Furniture. All Rights Reserved.