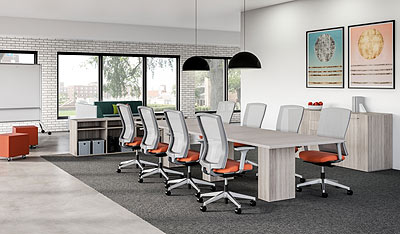 Conference & Training Room
A conference room table should be stylish and highly functional for both your employees and clients. The right table can greatly improve the dynamics of your meetings and productivity. Optional integrated power modules puts the data and electrical needs of today's technology rich conference meetings right at your finger tips. Laminate or wood, traditional or contempary, MBF has a great looking table for your office.
Conference & Training Room Catalogs
Training Rooms are all about flexibility. What might be a small intimate meeting in the morning might be a large training secession in the afternoon. Mobile bases, quick release ganging hardware and optional electrical modules can make reconfiguring your tables a breeze. MBF has the shapes, sizes and options to fit the needs of any size space.

Copyright © 2022 Maine Business Furniture. All Rights Reserved.